Antifreeze freezing point
The apparatus consists of a benchtop case containing the cooling compressor with the cooling jacket and supporting the head and the control box. Stirring of the sample is provided by an electric motor adjusted for 75 strokes/min and connected to a coil. Temperature is acquired by means of a Pt100 RTD. The apparatus needs a PC to operate. A software running under Windows Xp/Vista/7 permits to perform the analysis fully automatically, store data and print reports.
Enamel finished steel case, benchtop version.
Double stage cooling compressor (for jacket temperatures down to –85°C).
Electrically powered sample support: it permits to lift the sample out of the jacket and to insert it at the beginning of the test.
Electric sample stirrer with coil. Stirrer speed: 75 strokes/min.
Pt100 RTD for sample temperature recording: complete with cable and connector.
Software running under Windows Xp/Vista/7 that permits to introduce the analytical data, controls the test, displays the results and allows printouts. Software includes calibration tools with all modern QC control and record.
English written user manual.
CE marked.
For 220 V/50 Hz connections: 1600 W power consumption.
Dimensions (l x w x h): 700 x 600 x 900 mm. Weight: 120 kg. approx.
PC not included.
AD1177-110        Apparatus for the determination of Freezing Point of antifreeze liquids for PC connection
ACCESSORIES
PC01                    Desktop PC
PRN01                 Printer
CAL001                PT100 simulator
CAL002                Officially certified PT100 simulator
CONSUMABLES
AD1177-C00        Glass sample container, 200 ml
Specifications may vary without notice.
The apparatus is supplied bare without glassware (if any), accessories and consumables.
Next Product: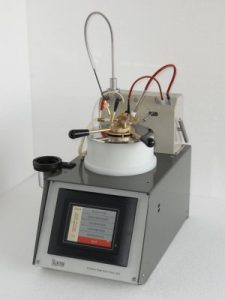 Abel
Previous Product: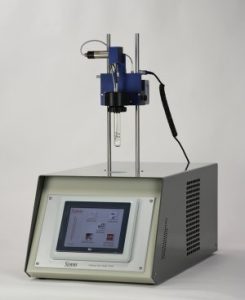 Fuel freezing point