The apparatus consists of a benchtop case hosting the electrically heated bath. The apparatus is equipped with a 30 rpm electric stirrer with a separate switch
Enamel finished steel case.
Double wall brass heating bath with hole for water filling.
Electric heater with voltage regulator.
Pt100 probe for sample temperature acquisition.
Digital display for sample temperature, 0.1°C accuracy.
One brass cup with handle.
One lid with flame exposure device, thermometer well, gas ignitor and pilot flame.
30 rpm electric stirrer with separate switch.
English written user manual.
For 220 V/50 Hz connection: 500 W power consumption.
Dimensions (l x w x h): 360 x 360 x 400 mm. Weight: 12 kg approximately.
CE approved.
IP0170-110     Apparatus ACCESSORIES CAL001          PT100 simulator CAL002          Officially certified PT100 simulator CONSUMABLES IP0170-C00     Oil cup IP0170-C01     Lid IP0170-C02     PT100 probe IP0170-C04     Gas ignitor Specifications may vary without notice. The apparatus is supplied bare without glassware (if any), accessories and consumables.
Next Product: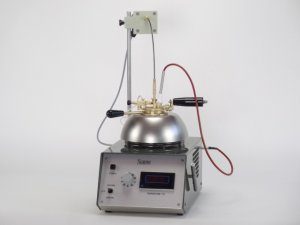 Manual Pensky Martens
Previous Product: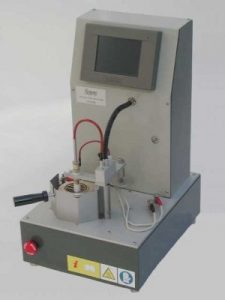 Cleveland