The apparatus is a benchtop model which houses the air bath stove and the stirrer motor: differently from other apparatus on the market, our instrument is equipped with a fan that cools down the stove quickly after the test.
Enamel finished benchtop steel case.
Cast iron stove, electrically heated with stainless steel external shield.
Voltage regulator with dial on the front panel.
Pt100 probe for sample temperature acquisition.
Digital display for sample temperature, 0.1°C accuracy.
Oil cup, brass, complete with filling mark. Insulating handle.
Lid with flame dipping mechanism.
Electric stirrer, 100 or 250 rpm.
Electric fan for a quick cooling of the stove at the end of the test.
English written user manual.
For 220V/50 Hz connections, 900 W power consumption.
Dimensions (l x w x h): mm 240 x 330 x 450. Weight: 10 kg approximately.
CE approved.
AD0093-120        Apparatus (for ASTM D 93 method A, B and C)
ACCESSORIES
CAL001                PT100 simulator
CAL002                Officially certified PT100 simulator
CONSUMABLES
AD0093-C00        Oil cup
AD0093-C01        Lid
AD0093-C02        PT100 probe
AD0093-C04        Gas ignitor
TA009C-N00       ASTM 9C thermometer (-5/+110°C)
TA010C-N00       ASTM 10C thermometer (+90/+370°C)
Specifications may vary without notice.
The apparatus is supplied bare without glassware (if any), accessories and consumables.
Next Product: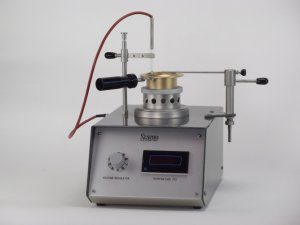 Manual Cleveland
Previous Product: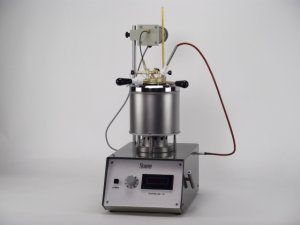 Manual Abel