Corrosiveness and oxidation stability of light oils
The apparatus consists of a benchtop steel case containing an aluminium thermostatic block with a series of holes for the introduction of the oxidation cells, a support for the flowmeters and a water dispenser for the condenser refrigeration.
Enamel finished benchtop steel case.
Aluminium block bath with  wells for test tubes.
Stainless steel electric heaters.
Microprocessor thermoregulator with built-in temperature display, 0.1°C accuracy. Probe: PT100 RTD. Regulation accuracy ± 0.1°C. Working range: from ambient to 300 °C.
Safety device against overheating.
Easy access control box placed on the right side of the apparatus and containing all the electronics and electrical parts. Aluminium control panel with english written indications.
Oxygen inlet manifold with high precision variable area flowmeters with calibration certificate. Individual needle valves for regulating oxygen flow at 5  ± 0.5 l/h
Water inlet manifold with valve connections for the mushroom condensers.
Water outlet manifold.
English written user manual.
For connection to 220V/50Hz. Power consumption 2000 W.
CE marked.
Four, six, eight and twelve-place units available.
Version with mass flow controller and software also available.
F53084-100         Four-place unit. Dimensions (l x w x h): 640 x 430 x 1000 mm. Weight: 90 kg
F53084-110         Six-place unit. Dimensions (l x w x h): 760 x 430 x 1000 mm. Weight: 110 kg F53084-120         Eight-place unit. Dimensions (l x w x h): 640 x 490 x 1000 mm. Weight: 130 kg F53084-130         Twelve-place unit. Dimensions (l x w x h): 760 x 430 x 1000 mm. Weight: 160 kg
ACCESSORIES  
CAL001                PT100 simulator
CAL002                Officially certified PT100 simulator
CONSUMABLES
F53084-C00        Test tube
F53084-C01        Allihn condenser
F53084-C02        Oxygen delivery tube
F53084-C03        Set of four copper plates
F53084-C04        Set of four mild carbon steel plates
F53084-C05        Set of four aluminium alloy plates
F53084-C06        Set of four magnesium alloy plates
F53084-C07        Set of four cadmium plated steel plates
F53084-C08        Set of four silver plates
F53084-C09        Set of four solid cadmium plates (non standard)
F53084-C10        Set of four titanium plates (non standard)
F53084-C11        Pack of 10 sheets of abrasive paper 100 grit
F53084-C12        Pack of 10 sheets of abrasive paper 150 grit
F53084-C13        Pack of 10 sheets of abrasive paper 240 grit
F53084-C14        Abrasive powder, 0.5 kg
Next Product: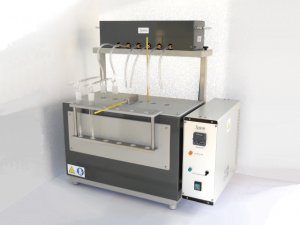 Oxidation stability of mineral insulating oils
Previous Product: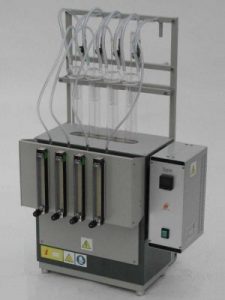 Oxidation characteristics of inhibited mineral oils