Thermostatic bath for penetration sample
The equipment consists of a compact benchtop circulation cooler to be placed below the bench supporting the penetrometer: thanks to a built-in cooling compressor, temperature can be maintained in a range from 0 to 50°C with 0.1°C precision. A pump permits to circulate the liquid in the transfer dish placed on the penetrometer.
Enamel finished benchtop steel case.
Stainless steel inside tank, 10 liter capacity, thermally insulated.
Stainless steel cover.
Electric pump with overload protection. The pump is equipped also with a propeller to stir the liquid in the tank.
Stainless steel heater.
Air cooled hermetically-sealed single stage cooling compressor placed aside the tank. Chromium plated cooling coil. CFC/HCFC-free gas is used to fill the circuit.
Microprocessor thermoregulator with PID action and built-in digital display 0.1 °C accuracy. Probe: Pt100 RTD. The heater is piloted through a SSR.
Safety device against over-temperature and low-level: it cut off the power supply and light a lamp on the control panel in case of alarm.
3 m thermally insulated tubing to connect to the transfer dish.
Easy access control box containing all the electronics: anodized aluminium panel with English written indications.
English written user manual.
For 230 V/50 Hz connection. Power consumption: 500 W approx.
Dimensions (l x w x h): 500 x 400 x 500 mm approx. Weight: 25 kg approx.
AD0005-200    Apparatus
ACCESSORIES
CAL001          PT100 simulator CAL002          Officially certified PT100 simulator
Next Product: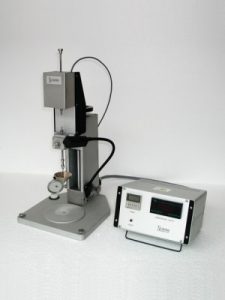 Digital penetrometer
Previous Product: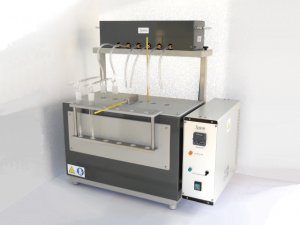 Oxidation stability of mineral insulating oils