Worked penetration results may be used to establish the consistency of lubricating greases after prolonged working. The change in worked penetration results on a grease after prolonged working are believed to be a measure of its shear stability under the conditions of the test.The electrically operated grease working machine consists of a geared motor for 60 strokes/min mounted on a aluminium base with clamps to fix the grease workers. The number of strokes, continuously showed on a display, can be preset to stop the worker after any required number of strokes up to 100,000.
Cast aluminium base, machine worked and enamel finished. Benchtop version.
Geared motor unit for 60 strokes/min.
Two crank flanges, cast iron.
Programmable counter with six digits.
Two grease workers.
Two worker plates, 51 holes.
Wrench for opening and closing of grease workers.
For 380V / 50Hz connections: 600 W power consumption.
English written user manual.
Dimensions (l x w x h): mm 450 x 450 x 350 approx. Weight: kg 30 approx.
CE marked.
Single and dual units available.
AD0217-100        Single-unit grease working machine
AD0217-110        Dual-unit grease working machine
ACCESSORIES
AD0217-A00        Worker plate, 51 holes
AD0217-A01        Worker plate, 270 holes (FTMS 313.3)
AD0217-A02        Lip seal for rod
AD0217-A03        Overflow ring
AD0217-A04        Blank cup cover (used when preheating the sample prior to test)
Next Product: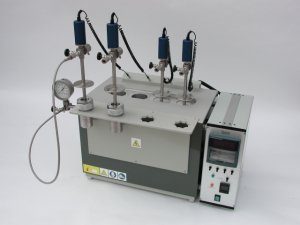 Oxidation stability of greases
Previous Product: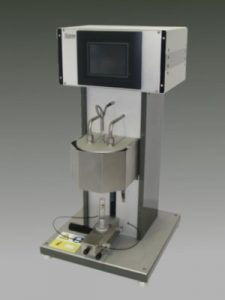 Dropping point of lubricating grease