The apparatus consists of a benchtop case containing all the electronics and supporting the front-wheel hub and spindle assembly encased in a thermostatically controlled air bath. The motor is placed in the rear and rotates the spindle at 660 rpm through a V-belt drive.
Enamel finished benchtop steel case. Hinged shield with thermal insulation. Safety switch that stops the motor and the heating when the shield is open.
Stainless steel bearing spindle fixed to the body with insulating spacers. Jacket for ASTM 7C spindle thermometer.
Stainless steel hub with aluminium driven pulley and leakage collector.
One Timken n° 15118 bearing with n° 15250 cup.
One Timken n° 9074 bearing with n° 9196 cup.
1/3 HP electric motor with metal shaft extension, drive pulley and fan built exactly as prescribed by the ASTM D 1263 test method. The motor is mounted on an adjustable support to permit tightening the pulley.
Stainless steel heaters.
Microprocessor thermostat with PID action and built-in digital display 1°C accuracy. Probe: Pt100 RTD.
Working range: from ambient to 165 °C. Regulation accuracy: +/- 1°C.
Safety devices against overheating.
Digital timer for the operation time regulation: it stops the spindle automatically after the preset time has elapsed.
For 220 V/50 Hz connections: 1700 W power consumption.
English written user manual.
CE marked.
Dimensions (l x w x h): 550 x 450 x 380 mm. Weight: 70 kg.
AD1263-100        Apparatus
AD1263-110        Apparatus with digital display for the spindle temperature
ACCESSORIES
AD1263-A00        Torque wrench
CAL001                PT100 simulator
CAL002                Officially certified PT100 simulator
CONSUMABLES
AD1263-C00        Large bearing
AD1263-C01        Small bearing
TA007C-N00       ASTM 7C thermometer (-2°C/+300°C)
Next Product: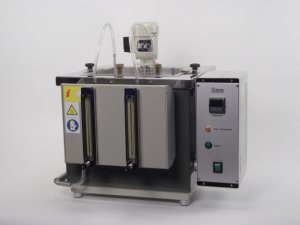 Evaporation loss of greases and oils
Previous Product: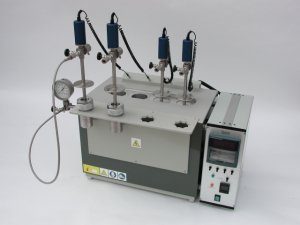 Oxidation stability of greases