Evaporation loss of greases and oils
The apparatus consists of a case containing a stainless steel bath and supporting precision flowmeters. The bath is equipped with a stainless steel cover with holes for the introduction of the evaporation cells.
Enamel finished benchtop steel case.
Stainless steel bath with drain valve. High efficiency thermal insulation.
Electric stirrer with stainless steel shaft and propeller.
Stainless steel heaters.
Stainless steel cell support.
High precision flowmeters with needle valve and complete with calibration certificate. For a flow rate of 2 l/min.
Air filter containing glass wool.
Microprocessor thermoregulator with PID action: built-in digital thermometer 0.1°C accuracy. Probe: Pt100 RTD. Test range: from ambient to 160°C.
Safety device against overheating and low-level.
English written user manual.
For 220 V/50 Hz connection. Power consumption 2000 W.
Dimensions (l x w x h): mm 800 x 400 x 700 approx. Weight: kg 45 approx. (four-unit version).
CE marked.
Two and four place units available
Version with mass flow controllers and software also available.
AD0972-100        Two-place unit AD0972-110        Four-place unit
ACCESSORIES
AD0972-A00        Stainless steel cell with copper coil for air heating
AD0972-A01        Test cup for oil
AD0972-A02        Test cup for grease
CAL001                PT100 simulator
CAL002                Officially certified PT100 simulator
CONSUMABLES
TA022C-N00       ASTM 22C thermometer (+95°C/+103°C)
TA067C-N00       ASTM 67C thermometer (+95°C/+155°C)
Next Product: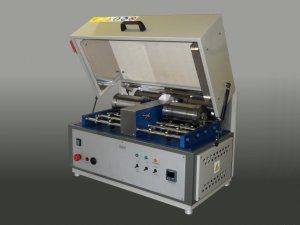 Roll stability of lubricating grease
Previous Product: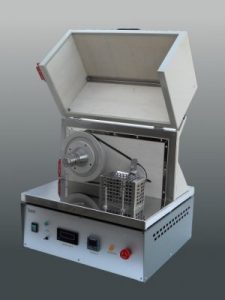 Wheel bearing test