Roll stability of lubricating grease
The apparatus consists of a benchtop case with a hinged shield that covers the rolling mechanism vane. Two and four-cylinder units are available.
Enamel finished benchtop steel case.
Upper vane hosting the rolling mechanism ball bearing mounted. Aluminium bearing supports.
Thermally insulated hinged cover with safety switch that stops the roller motor, fan and heater when opened.
Microprocessor thermoregulator with built-in digital display 0.1°C accuracy. Probe: Pt100 RTD. Working range: from ambient to 100 +/- 1°C.
Safety device against overheating.
Stainless steel heater.
Fan for air circulation inside the cylinder vane.
Set of stainless steel cylinders with threaded caps and 5 kg brass roller weights.
Electronic timer that stops the test at the end of the preset time. Buzzer that sounds to alert that test is completed.
Electronically driven motor for operation at 10 and 165 rpm. Thermally protected against overload.
Control box containing all the electronics.
English written user manual.
For 220 V/50 Hz connections: 1000 W power consumption.
Four-cylinder apparatus also available.
CE marked.
AD1831-100        Two-cylinder apparatus. Dimensions (l x w x h): mm 500 x 400 x 400. Weight: 55 kg
AD1831-110        Four-cylinder apparatus. Dimensions (l x w x h): mm 500 x 650 x 400. Weight: 80 kg
ACCESSORIES
AD1831-A00        Cylinder with threaded caps
AD1831-A01        Roller weight, 5 kg
CAL001                PT100 simulator
CAL002                Officially certified PT100 simulator
Next Product: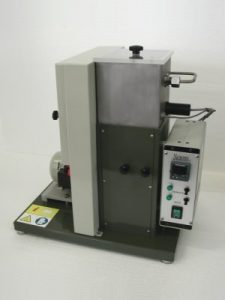 Water washout characteristics of lubricating grease
Previous Product: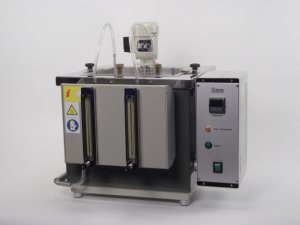 Evaporation loss of greases and oils