Water washout characteristics of lubricating grease
The apparatus consists of a benchtop case supporting the motor, the bath, the pump and the water pipes. All the electronics is contained in a control box fixed to the instrument body.
Enamel finished benchtop steel case.
Test bearing housing and shield manufactured exactly as specified in the method.
Stainless steel reservoir complete with inlet and outlet lines, aluminium housing mount, chromium plated brass circulating pump, 1/4 HP electric driving motor with belts;
Stainless steel cartridge heater.
Microprocessor thermoregulator with built-in digital display 0.1°C accuracy. Probe: Pt100 RTD. Working range: from ambient to 100°C. Suitable for working at 37.8 ± 0.1°C and 79 ± 0.1°C;
Motor and pulleys for operation at 600 ± 30 rpm;
The motor and pulley arrangement permits to start the water pump without starting the bearing for water flow calibration;
Regulation and by-pass valve to regulate the flow at 5 ± 0.5 ml/sec through a 1 mm capillary;
English written user manual.
For 220 V/50 Hz connections: 600 W power consumption;
Dimensions: mm 400 x 400 x 600. Weight: 25 kg.
CE marked.
AD1264-100        Apparatus
ACCESSORIES
CAL001                PT100 simulator
CAL002                Officially certified PT100 simulator
CONSUMABLES
AD1264-C00        Test bearing type 6204
TA015C-N00       ASTM 34C thermometer (+25°C/+105°C)
Next Product: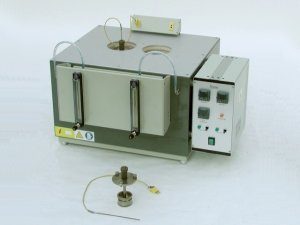 High temperature evaporation loss
Previous Product: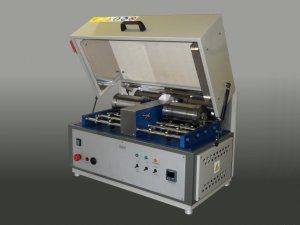 Roll stability of lubricating grease