Reid vapor pressure of gasoline
The apparatus consists of a floor mounted water bath with a support for three vapour pressure cylinders.
Enamel finished steel case.
Stainless steel water bath suitable for the immersion of three vessels. Drain cock on the rear of the apparatus.
Electric stirrer complete with stainless steel shaft.
Electronic temperature control (proportional and derivative) obtained using a microprocessor controlled thermoregulator. with built-in digital display 0.1°C accuracy. The probe is a PT100 RTD. Regulation accuracy ± 0.1°C. Working range: from ambient to 50°C.
Stainless steel heater.
Safety device that cuts off the power supply and lights a lamp on the control panel in case of overheating of the liquid in the bath or lowering of the water level.
Easy access control box placed on the right side of the apparatus containing all the electronics: anodized aluminium control panel with english written indications.
English written user manual.
For 220 V/50 Hz connections. Power consumption: 1000 W.
Dimensions (l x w x h ): mm 500 x 300 x 850 approx.  Weight 50 kg approx.
CE marked.
AD0323-100        Apparatus
ACCESSORIES
AD0323-A00        Reid V.P. vessel
AD0323-A01        Reid V.P. vessel  for sampling under pressure
AD0323-A02        Mercury manometer (for checking gauge)
AD0323-A03        Bourdon type spring gage stainless steel Ø 150 mm,   range 0/1 Kg/cm2 -  accuracy 1% f.s. range 0-1 Kg/cm2 AD0323-A04        Bourdon type spring gage stainless steel Ø 150 mm, range 0/1 Kg/cm2 -  accuracy 1% f.s. range 0-2.5 Kg/cm2 AD0323-A05   Bourdon type spring gage stainless steel Ø 150 mm, range 0/1 Kg/cm2 -  accuracy 1% f.s. range 0-4 Kg/cm2 AD0323-A06     Bourdon type spring gage stainless steel Ø 150 mm, range 0/1 Kg/cm2 -  accuracy 1% f.s. range 0-0.4 bar, accuracy 1.6% (membrane type)
AD0323-A07      Gage calibration device
AD0323-A10      Digital gage (scale -1 to +3 bar with possibility to commute to psi, kg/cm2 and kPa – +/- 0.1 F.S. accuracy)
CAL001              PT100 simulator
CAL002              Officially certified PT100 simulator
CONSUMABLES
AD0323-C00       Pack of 10 O-ring seals to connect air chamber to pressure gage
AD0323-C01       Pack of 10 O-ring seals to connect air to liquid chamber
TA058C-N00       ASTM 58C thermometer (-34°C/+49°C)
Next Product: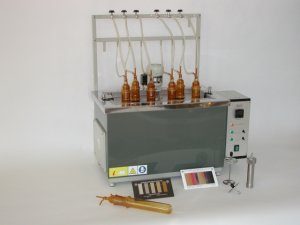 Copper/Silver Corrosion
Previous Product: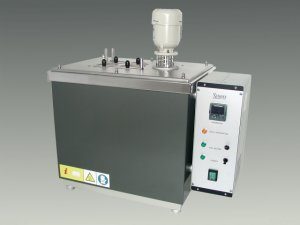 Copper Strip Corrosion