The apparatus consists of a benchtop case which houses an aluminium heating block. Two versions are available: one for the "Air Jet" test on gasoline and one for both the "Air and Steam Jet" tests with a built-in steam superheater. Steam generator and air blower are also available.
Enamel finished benchtop steel case with robust base to support the heating block.
Five-place aluminium heating block with steam outlets. Stainless steel steam coils and outlets (removable).
Stainless steel coaxial heater.
Stainless steel steam superheater inserted in the case. Complete with regulator.
High precision flowmeter for the Air Jet test: range from 0 to 12 m3/h.
Stainless steel gauge for the Steam Jet Test: range from 0 to 6 psi.
Microprocessor thermoregulator with built-in digital display 1°C accuracy.  The probe is a PT100 RTD. Regulation accuracy ± 0.5 C. Working range: from ambient to 300°C.
Safety device against overheating.
Easy access control box placed on the right  side of the apparatus containing all the electronic and electrical components: anodized aluminium control panel with english written indications. Main and heater switch.
English written user manual.
For 220 V/50 Hz connections. Power consumption: 3500 W.
Dimensions (l x w x h): mm 860 x 560 x 840 approx. Weight: 98 Kg.
CE marked.
AD0381-100      Apparatus for the Air and Steam Jet tests
AD0381-110      Apparatus as above but only for the Air Jet test (without steam superheater). For 220V/50 Hz. Power   consumption: 2000 W. Dimensions (l x w x h): mm 750 x 490 x 680  approx. Weight 73 Kg approx.
ACCESSORIES
AD0381-A00        Electric Steam generator (400V/50 Hz, 10 kW)
AD0381-A01        Air Blower (380 V/50 Hz, 0.5 kW)
CAL001                PT100 simulator
CAL002                Officially certified PT100 simulator
CONSUMABLES
AD0381-C00        Pyrex glass sample container
TA003C-N00       ASTM 3C thermometer (-5°C/+400°C)
Next Product: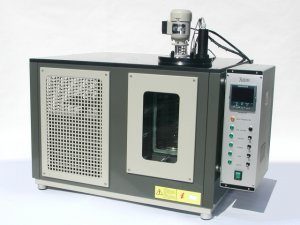 Low temperature viscosity
Previous Product: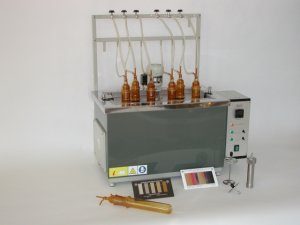 Copper/Silver Corrosion