High temperature viscosity
The apparatus consists of a benchtop steel case containing a pyrex jar, 330 mm deep, that permits the use of a wide range of viscometer tubes. Up to six viscometer tubes can be inserted on a turntable that allows to carry in the front of the jar the tube on which the operator is working on.
Enamel finished benchtop steel case.
Borosilicate glass jar 330 mm deep visible through the front window.
Built-in lighting device placed on the rear side of the case and covered with a frosted glass to avoid dazzling to the operator.
Steel safety recovery bath capable to contain the liquid in case of breaking of the jar.
Electric stirrer.
Six-position turntable built-in the top cover: it permits each viscometer tube to be brought to the front without take it off the bath. Suitable for Cannon-Fenske and Ubbelohde tubes.
Stainless steel heaters: the auxiliary heater automatically switches off when the selected temperature has been reached.
Stainless steel cooling coil: when connected to a cold water source it permits to keep temperatures below ambient in the jar.
Electronic temperature control ± 0.01°C. Probe: Pt100 RTD.
Digital setting of the desired bath temperature: setting accuracy 0.01°C. Digital thermometer 0.01°C accuracy.
Working range: from ambient to 150°C.
Six synthetic rubber tube holders for Cannon Fenske or Ubbelohde viscometer tubes.
Six viscometer tube hole stainless steel covers.
Control thermometer jacket placed on the bath cover.
Safety devices against overheating and low-level.
Easy access control box placed on the right side of the apparatus and containing all the electronic and electrical components: aluminium control panel with english written indications.
English written user manual.
For 220 V/50 Hz connections. Power consumption 1800 W.
Dimensions (l x w x h): mm 460 x 520 x 900. Weight: 45 kg.
CE marked.
AD0445-111     Apparatus with built-in digital thermometer, 0.01 °C accuracy
AD0445-120    Low cost version without surrounding case, recovery bath, rotating cover, digital thermometer and rear light. The apparatus consists of a metal base supporting a Pyrex jar and the control box. The jar cover has five jackets for the capillaries. Working range: from ambient to 120°C. The electronics is the same of the AD0445-111
ACCESSORIES
AD0445-A00        Battery chronograph
AD0445-A01        Portable digital thermometer with Pt100 probe
CAL001                PT100 simulator
CAL002                Officially certified PT100 simulator
CONSUMABLES
TAO46C-N00      ASTM 46C thermometer (+48.6°C/+51.4°C)
TA120C-N00       ASTM 120C thermometer (+38.6°C/+41.4°C)
TA121C-N00       ASTM 121C thermometer (+98.6°C/+101.4°C)
AD0445-C00        Cannon-Fenske capillary support
AD0445-C01        Ubbelohde capillary support
Next Product: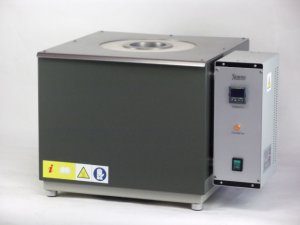 Ramsbottom carbon residue
Previous Product: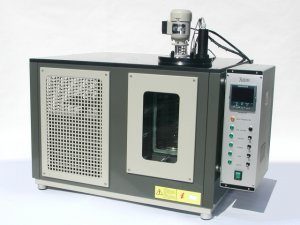 Low temperature viscosity