Ramsbottom carbon residue
The apparatus consists of a benchtop case containing a five-place steel furnace. It can reach temperatures up to 600 °C.
Enamel finished steel case, benchtop version.
Steel block heater, with five wells 25.45 mm diameter, 76 mm depth with hemispherical bottom.
Microprocessor controlled thermoregulator with PID action and built-in digital display 1 °C accuracy showing the temperature and the set-point. Four buttons easy-to-use keyboard to preset working temperature. Probe: stainless steel coated type K thermocouple. Regulation accuracy: ±1°C.
Working range: from ambient to 600°C.
Coaxial heater with ceramic supports, SSR controlled.
Stainless steel forceps for coking bulbs handling.
Safety devices against overheating.
English written user manual with installation instructions.
For 220 V/50 Hz connections: 1500 W power consumption.
Dimensions (l x w x h): 450 x 450 x 600 mm. Weight: 50 kg.
CE marked.
AD0524-100        Apparatus
ACCESSORIES
AD0524-A00        Stainless steel control bulb
AD0524-A01        Type K thermocouple for control bulb
AD0524-A02        Digital indicator
AD0524-A03        Stand for holding and filling the bulbs
CAL001               PT100 simulator
CAL002               Officially certified PT100 simulator
CONSUMABLES
AD0524-C00       Pyrex glass coking bulb
AD0524-C01       5 cc syringe
AD0524-C02       10 cc syringe
Previous Product: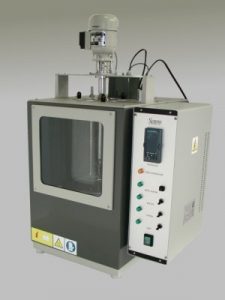 High temperature viscosity