The apparatus consists of a benchtop case hosting the heating bath (aluminium block bath also available) and a rear frame with a manifold for the cooling water and a series of supports for the condensers. The main advantage of the aluminium block apparatus is that hot oil and fumes are completely eliminated.
Enamel finished benchtop steel case.
Stainless steel oil bath with four holes for the glassware. Optionally, aluminium block heater with four holes for the glassware.
Electric stirrer (only in the water/oil bath versions).
Stainless steel electric heater.
Glassware support with lifting device.
Removable stainless steel cover.
Frame supporting a manifold with four water outlets with regulating valve. A second manifold is provided for connection to the outlets of the condensers.
Electronic thermoregulator with PID action and built-in digital display. Probe: Pt100 RTD.
Working range: from ambient to 160°C.
Safety device against overheating and low-level.
Four high precision variable area flowmeters 150 mm scale length, 0 to 130 ml/min measurable flow with hose connectors at the outlet. Inlet connected to a manifold.
English written user manual.
For 220 V/50 Hz connections. Power consumption: 2000 W.
Dimensions (l x w x h): 700 x 400 x 850 mm. Weight: 50 kg approx.
CE marked.
Six and eight-place apparatus also available. For low-boiling accessories please request separate quotation.
Version with mass flow controller and software also available.
AD1384-100        Four-place apparatus, water/oil bath
AD1384-110        Four-place apparatus, aluminium block
AD1384-120        Six-place apparatus, water/oil bath
AD1384-130        Six-place apparatus, aluminium block
AD1384-140        Eight-place apparatus, water/oil bath
AD1384-150        Eight-place apparatus, aluminium block
ACCESSORIES
AD1384-A00        Set of four specimen bundles
CAL001                PT100 simulator
CAL002                Officially certified PT100 simulator
CONSUMABLES
AD1384-C00        Container, 1000 ml with cover
AD1384-C01        Condenser, glass, 400 mm length
AD1384-C02        Aerator tube
TA001C-N00       ASTM 1C thermometer (-20°C/+150°C)
Next Product: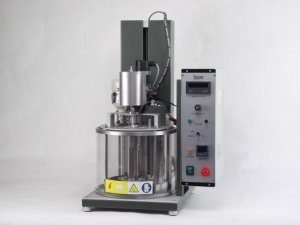 Water Separability
Previous Product: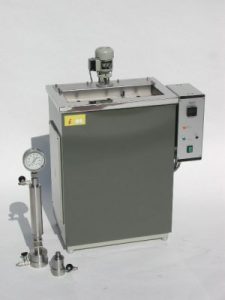 Vapor pressure of liquified petroleum gases