Corrosion of Cast Aluminium Alloys
The apparatus consists of a base supporting one or two heat-transfer corrosion cells. Cells are rated for a working pressure up to 40 psi and working temperature up to 160 °C. An electronic timer permits to set the test duration while an electronic thermostat is used to control the temperature.
Enamel finished benchtop steel base.
Safety screen surrounding the cell(s).
Heat transfer corrosion cell composed by a Pyrex-glass cell with stainless steel top and bottom plates.
Stainless steel heat transfer bar. 950 W coaxial heater piloted through a solid state relay.
Stainless steel manifold mounted on the top plate and equipped with purge valve, pressure relief valve and gage.
Filling nozzle with cap on the top plate.
Four stainless steel rods for assembly.
Electronic thermoregulator with PID action and built-in digital display. Probe: type K thermocouple. In the twin-unit, an independent thermostat for each position is adopted.
Working range: from ambient to 160°C.
Safety device against overheating.
Electronic timer: it is possible to preset the test duration. When the preset time is elapsed, the heater is automatically turned off. In the twin-unit, an independent timer for each position is adopted.
English written user manual.
For 220 V/50 Hz connections. Power consumption: 2200 W (twin unit) and 1100 W (single unit).
Dimensions (l x w x h): 800 x 350 x 850h mm (twin unit) and 450 x 350 x 850h mm (single unit).
CE marked.
AD4340-100        Single-unit apparatus
AD4340-110        Double-unit apparatus
ACCESSORIES
CAL001                PT100 simulator
CAL002                Officially certified PT100 simulator
CONSUMABLES
AD4340-C00        Specimens
AD4340-C01        Pyrex glass cell
AD4340-C02        Viton gasket
AD4340-C03        Type K thermocouple
Next Product: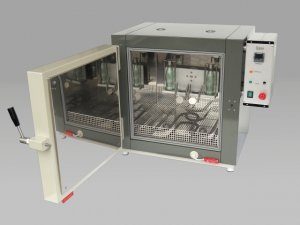 Hydrolitic stability of hydraulic fluids
Previous Product: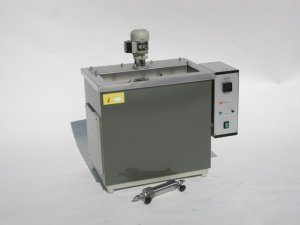 Copper Corrosion of LPG