Hydrolitic stability of hydraulic fluids
The apparatus consists of a benchtop oven with a turntable inside that can carry four or eight 200 ml Coca-Cola bottles. The turntable rotates the bottles at 5 rpm.
Enamel finished benchtop steel case.
Stainless steel inside.
Stainless steel heater.
High-efficiency thermal insulation.
Machined aluminium turntable with supports for 200 ml Coca-Cola bottles.
Safety switch that stops the turntable when the door is open.
Microprocessor controlled thermoregulator, PID action with built-in digital display 0.1°C accuracy. Probe: Pt100 RTD. Regulation accuracy ± 0.5°C.
Safety devices against overheating.
Working range: from ambient to 100°C.
One capping press.
Easy access control box placed on the right side of the apparatus containing all the electronics: anodized aluminium control panel with english written indications.
English written user manual.
For 220 V/50 Hz connections. Power consumption 1500 W.
Dimensions (l x w x h): mm 800 x 600 x 650 approx. Weight: kg 80 approx.
CE marked.
AD2619-100        Four-place apparatus
AD2619-110        Eight-place apparatus
ACCESSORIES
AD2619-A00        Filtration assembly
AD2619-A01        Set of 100 filters diam. 47 mm
AD2619-A02        Vacuum flask, 500 ml
AD2619-A03        Capping press
CAL001                PT100 simulator
CAL002                Officially certified PT100 simulator
CONSUMABLES
AD2619-C00        Coca-Cola bottle
AD2619-C01        Pack of 50 caps with gaskets
AD2619-C02        Copper strips
Specifications may vary without notice.
Next Product: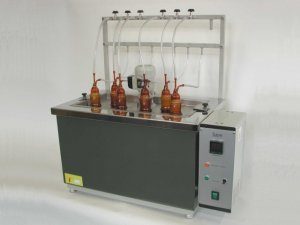 Silver corrosion
Previous Product: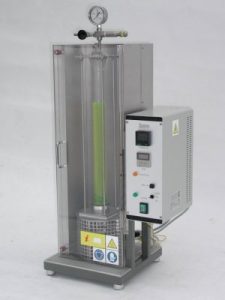 Corrosion of Cast Aluminium Alloys