Portable Hand Sheet Dryer Model H9P
General Information:
This Portable Curved Hand Sheet Dryer Model H9P is designed for drying classic hand sheets. The sheet is pressed between the massive curved heating plate and a strongly tightened felt. This way of drying avoids shrinking of the sheet during drying process. The papermaker characteristics of the obtained dried sheet are excellent. This bench dryer can heat up to 160 degrees C, or more upon request.
Technical Specification:
This dryer is especially designed for easy use thanks to its design and the innovating locker
This type of dryer with curved heating plate and tightened felt avoids paper shrinkage
The user obtains nice flat non curled hand sheets with excellent characteristics
Applicable for any standard hand sheets to maximum size of sheet up to 34×24 cm
Great uniformity of temperature on the whole surface thanks to the 10mm thick aluminium heating plate
Silicone heating pad under the complete heating surface of  350 x 250 mm with maximum power of 1000 Watts
Adjustable temperature setting up to 160 degrees C or higher if requested
Silent PID temperature control with 0.1 degrees C resolution
Pt100  temperature sensor is located in the thickness of the heating plate, this allows the best temperature reading
User friendly tightening locker system
The felt stays stretched during closing: no re-positioning needed of the sheet
The tension of the felt can be readjusted
Stainless steel housing
Overall dimensions of width (425mm) x depth (300mm) x Height, dryer closed (200mm), Weight of 10 kg
Warranty: 12 months after installation
Installation Requirements:
Electricity supply: 220-230V, 50Hz, 15 Amps, single phase
Next Product:

Benchtop Hand Sheet Dryer Model H9B
Previous Product: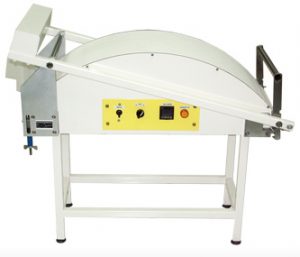 Hand Sheet Dryer Model H9